This weekend we celebrate our wonderful Mummies.
My mum is amazing! I love her to bits! She raised me and my younger sister on her own, and has always done her very best for us. Yes, we have fallen out and argued over the years, the three of us still get a bit heated at times. BUT we all know how much love we have for each other, and that at the end of the day we are always there for each other.
My Mum has made some huge sacrifices for me and for that I will forever be truly grateful, and I hope that I show how grateful I am, although I am far from the perfect daughter. Here are a few things about my Mum:
Her nickname is Grotbags! It has been since we were kids and was coined by my cousin. Despite what people think, she loves it :)
She is an amazing cook and makes great cakes.
When we have family get togethers the running joke amongst "the kids " is that there is only one choice for mains but 50 for dessert.
She doesn't realise it, but she says "and I said, then she said" quite a lot in her conversations.
She will openly admit how useless she is with technology.
She hates driving in strange places.
She has psychic tendencies I think, no really she is in tune with that stuff.
Every Sunday she reads her Saturday paper for 3 hours with a huge cup of tea before getting dressed.
She thinks she is going to leave me that green duck-she can think again;)
She loves to ski.
She is really weird with food, no herbs, nothing sweet with meat, sweet and savoury together is a big no-no and definately NO peppers;)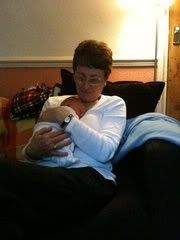 Thank you Mum for being so great and for all you do for your family!
I love you very much xx